HARAJUKU STYLE
Harajuku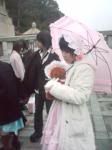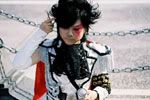 Visit Harajuku on any day but Sunday and you see an area filled with street cafes, boutiques, restaurants and many interesting shops.
Come on Sunday and you get all that as well as a whole range of bands, dance troupes and people dressed up in all sorts of costumes.
One of the top tourist places to visit is the famous Oriental Bazaar on Omote Sando. The Oriental Bazaar sells all things touristy and from Asia.
You can buy a range of things here: from Kamikaze headbands to top quality furniture. It's well worth a visit. It's on Omote Sando roughly half way along from either end.
As well as all that there is the Meji-Jingu Shrine here as well. You could spend most of a day in this area. Arrive late morning, get off the subway at Omote Sando station (Hanzomon or Ginza subway lines), walk down Omote Sando, to Harajuku station (JR Yamanote). As well as all the high fashion shops on Omote Sando itself, take a detour on the side streets for interesting restaurants and shops.
Behind Harajuku station is the Meji-Jingu shrine.
You can spend some time strolling in the grounds or just looking at the architecture. You will be surprised at how far you seem to be from the hustle of Tokyo just a few hundred metres away. The shrine was built in memory of the Emperor Meji. This is a replica of the original that was destroyed in the war, but the quality of construction is so good you would never know.
The emperor Meji was responsible for overseeing the change of Japan from a more or less closed country to the modern power it is today. To many people this is the principal shrine in Japan.
These wooden placards are for luck. You buy a placard, write your wish on it, place it on a hook and hopefully it will all come true.
Also in the grounds is a "Treasure Museum" and to be honest, it's not worth the entrance fee. There are many better museums to see.
After you have taken your fill of culture you can head for Yoyogi Koen, which is the large park behind the shrine. This can be a relaxing walk or you can hire bicycles from the cycling centre which is located towards the north of the park.
If you are visiting Harajuku on a Sunday you may find the ticket machines very busy when you come to leave, especially the JR Harajuku station. It is a good idea to buy your departing ticket when you arrive. If you aren't sure were you are going to buy a cheap ticket and pay the extra at the end of your journey.
Ingaat!!!Cuma ada di Jepang lho!!Andaikan ada harajuku disini,,,
Hiks,,,hikss,,,hikss,,,